 Rating:

Not reviewed

Disaster:

End of the World

Plot Summary:

Due to nuclear weapons testing, the pacific continental plates are shifting, casuing mass earthquakes and volcanic eruptions world wide. It's up to a group of scientists and US tactical mavericks to stop the movement, using another thermo nuclear explosion: and ground zero is Los Angeles, California.

Comments:

Not reviewed

Special Effects:

Not reviewed

Status:

Limited Availability - Try Amazon.co.uk

Released:

2002

Runtime:

88 mins

Color System:

Color

Screen Ratio:

Widescreen (1.85:1)

Starring:

Mark Dascascos, Rutger Hauer

Producer:

Neil Elman

Director:

James Seale

AKA:

none

If you spot any errors in the above information, please contact me at disasteronline@hotmail.com.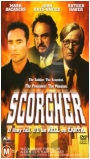 | | |
| --- | --- |
| | Buy the DVD |
| | Buy the Video |
| | Buy the Poster |