 Rating:

Disaster:

Nuclear

Plot Summary:

A family on their way to vacation in the mountains witness the destruction of Los Angeles as a nuclear bomb explodes. They continue on to their retreat to await more news of the holocaust. Very little news is to come and they soon begin a tense struggle for survival in this new chaotic wasteland.

Comments:

A somewhat dated and optimistic look at post nuclear war life. This film has a pleasant feel to it with Ray Milland performing well as the central character. The acting is done well and the story is engaging throughout the film. A worthy addition to the hardcore disaster lovers archive.

Special Effects:

The special effects are basically non-existent except for a brief mushroom cloud still shot used at the beginning of the film. This shot is obscure and difficult to put into perspective. This is definitely not an effects filled film. Watch it for the story because that's pretty much all there is.

Status:

Deleted - try Ebay

Released:

1962

Runtime:

95 mins

Color System:

Black & White

Screen Ratio:

Fullscreen (1.33:1)

Starring:

Ray Milland, Jean Hagan

Producer:

Samuel Z Arkoff

Director:

Ray Milland

AKA:

'End of the World'

If you spot any errors in the above information, please contact me at disasteronline@hotmail.com.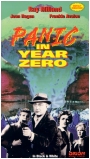 | | |
| --- | --- |
| | Buy the DVD |
| | Buy the Video |
| | Buy the Poster |