 Rating:

Disaster:

Sinkhole

Plot Summary:

A geologist has discovered that a series of huge sink holes have developed beneath New Orleans. It is up to him to prevent it from consuming the entire city.

Comments:

'On Hostile Ground' is your typical by-the-book disaster movie with the usual host of disbelieving characters and save-the-day scientists. Most of the cast performed quite well and the story was entertaining all the way. Certainly an above average effort considering the rather impossible plot. Please note, the image to the right is from the press kit.

Special Effects:

The special effects featured in 'On Hostile Ground' were made up of some rather obvious computer graphics and some quite well done full scale building collapses. The end sequences were done using miniatures with a montage of computer graphics, and this was quite obvious, even on the first viewing. Nothing too exciting here.

Status:

Unavailable

Released:

2000

Runtime:

90 mins

Color System:

Color

Screen Ratio:

Fullscreen (1.33:1)

Starring:

John Corbett, Jessica Steen

Producer:

Frank Siracusa

Director:

Mario Azzopardi

AKA:

'Sinkhole'

If you spot any errors in the above information, please contact me at disasteronline@hotmail.com.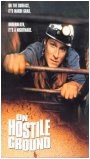 | | |
| --- | --- |
| | Buy the DVD |
| | Buy the Video |
| | Buy the Poster |