 Starflight: The Plane that Couldn't Land

Rating:

Disaster:

Air Disaster

Plot Summary:

A brand new supersonic commercial passenger aircraft is struck by fragments of a destroyed rocket and is forced into space. Without fuel, gravity and with very little oxygen, they must find a way to land the plane...

Comments:

This made-in-the-eighties TV disaster features an original concept and a genuinely thrilling plot. However, the dry dialogue and uninteresting characters seem to make 'Starflight' a difficult film to sit through. Good the first time around.

Special Effects:

The effects are for the most part, quite well done. The simulated weightlessness looks very believable and most of the actual shots of the aircraft seem real enough. However, the flight scenes (from the cockpit viewpoint) achieved using animation and a blue screen, look plainly obvious and detract from the realism of the film a bit. Still, the whole concept is a little fantastic. Watch for the story.

Status:

Limited Availability - Try ebay

Released:

1983

Runtime:

105 mins

Color System:

Color

Screen Ratio:

Fullscreen (1.33:1)

Starring:

Lee Majors, Ray Milland

Producer:

Henry Winkler

Director:

Jerry Jameson

AKA:

'Starflight One'

If you spot any errors in the above information, please contact me at disasteronline@hotmail.com.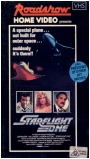 | | |
| --- | --- |
| | Buy the DVD |
| | Buy the Video |
| | Buy the Poster |