 Rating:

Disaster:

Earthquake

Plot Summary:

A Japanese film about a massive earthquake that hits Tokyo. The film focuses largely on seismologist, Hoichi and his family.

Comments:

'Death Quake' is a Japanese film, released in the US, with a dubbed-in-english voiceover. This ,and the poor lighting used in the film, tends to detract from what could have been an excellent film. It's quite drawn out in places but is still worth a look

Special Effects:

This film features some outstanding special effects and some truly impressive action sequences. Unfortunately, the film quality (for the english version) is less than great and makes it hard to watch. The aircraft exploding on the runway is one of the most chilling and destructive scenes I've ever seen in a disaster film.

Status:

Limited Availability

Released:

1980

Runtime:

102 mins

Color System:

Color

Screen Ratio:

Fullscreen (4:3)

Starring:

Hiroshi Katsuno, Toshiyuki Nagashima

Producer:

Tomoyuki Tanaka

Director:

Kenjiro Omori

AKA:

'Jishin Retto', 'Earthquake Archipelago', 'Magnitude 7.9', 'Earthquake'

If you spot any errors in the above information, please contact me at disasteronline@hotmail.com.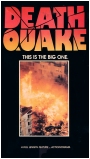 | | |
| --- | --- |
| | Buy the DVD |
| | Buy the Video |
| | Buy the Poster |