 Rating:

Disaster:

Nuclear

Plot Summary:

Survivors of World War 3 attempt to cross America in their specially designed vehicles in order to reach Albany, New York, a place where they believe more survivors are living.

Comments:

This little known film is actually very good. It has an almost surreal feel to it throughout most of the film. The action is consistent and relatively easy to watch and enjoy. Definitely worth a look.

Special Effects:

The special effects were obviously done on the cheap resulting in some rather unimpressive effects shots. Some of the scenes were borrowed from 'Earthquake'. Also from 'Earthquake' is Kip Niven along with the mayor from 'Jaws' and the director of 'Airport 1975', Jack Smight.

Status:

Deleted - Try Ebay

Released:

1977

Runtime:

91 mins

Color System:

Color

Screen Ratio:

Fullscreen 4:3

Starring:

Jan-Michael Vincent, George Peppard

Producer:

Hal Landers

Director:

Jack Smight

AKA:

'Survival Run'

If you spot any errors in the above information, please contact me at disasteronline@hotmail.com.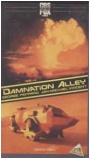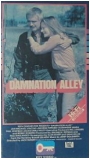 | | |
| --- | --- |
| | Buy the DVD |
| | Buy the Video |
| | Buy the Poster |